Subscribe to 'Golf Digest'
on YouTube to keep up with all of
our latest videos and shows.
Todd Anderson: The 15-Minute Warm Up
Todd Anderson, one of Golf Digest's 50 Greatest Teachers, offers some quick advice for players who don't leave themselves much time to warm up (sound familiar?)
You Just Watched...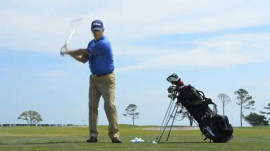 Play
Shots & Strokes
Todd Anderson: The 15-Minute Warm Up
Todd Anderson, one of Golf Digest's 50 Greatest Teachers, offers some quick advice for players who don't leave themselves much time to warm up (sound familiar?)