Golfers Who Give Back
3 seasons, 9 episodes
You might not recognize them from the tour, but you certainly know them by their day jobs. Golf fans like Emeril Lagasse and Stephen Curry share their passion for the game—and their passion for giving back.
2017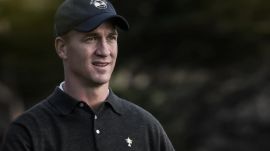 Play
News & Tours
Golfers Who Give Back: 2017 Arnie Award Recipients
The Arnie Award is the highest honor given by Golf Digest to golfers who give back. Check out the 2017 recipients.