Subscribe to 'Golf Digest'
on YouTube to keep up with all of
our latest videos and shows.
Golf Digest Cover Shoots
5 seasons, 24 episodes
Go behind the scenes of photo shoots featuring cover stars Kate Upton and Arnold Palmer, Rickie Fowler, and more.
2015
Play
Celebrity
On Set at Lexi Thompson's May Cover Shoot
She's only 20 years old, but Lexi Thompson is a veteran having turned pro at 15. Get to know our May 2015 cover star as she waxes poetic about fitness and golf, common amateur mistakes, and her signature swing.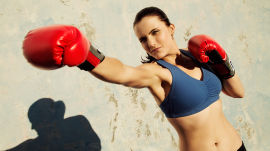 Play
Celebrity
Lexi Thompson Beats the Crap Out of Unsuspecting Bro
Pro golfer Lexi Thompson likes to box. Watch as our May 2015 cover star goes one-on-one with an average bro while answering his questions about how she got started, who she'd most like to play a round with, and who she idolizes in golf.